Chronic Liver Disease
INTRODUCTION
Quantify is actively engaging in retrospective research in the field of chronic liver disease, and Non-alcoholic Fatty Liver Disease (NAFLD) and non-alcoholic steatohepatitis (NASH), in particular. Quantify has initiated a large retrospective study, HEalth outcomes and Risk Assessment in chronic Liver Disease (HERALD), together with Karolinska University Hospital and Karolinska Institutet, Department of Medicine, Huddinge.
CHRONIC LIVER DISEASE
Chronic Liver Disease is a disease process of the liver that involves a process of progressive destruction and regeneration of the functional tissue of the liver, leading to fibrosis and cirrhosis. Causes of CLD can be viral (e.g. hepatitis C), toxic (e.g. alcohol), Metabolic (e.g. NAFLD/NASH), or autoimmune (e.g. autoimmune hepatitis, primary biliary cholangitis). In 2017, there were 2.14 million liver-related deaths globally, predominantly due to liver-cancer and cirrhosis. Viral hepatitis remains the most common cause of liver deaths, and NAFLD is the most rapidly growing contributor to liver mortality and morbidity.
NAFLD
NAFLD is the most common metabolic CLD, which occurs when fat accumulates in the liver due to other causes than long-term excessive alcohol consumption [18]. There are two types of NAFLD; simple fatty liver (also called non-alcoholic fatty liver, NAFL) and non-alcoholic steatohepatitis (NASH). Individuals with NASH are also at greater risk of type 2 diabetes and cardiovascular disease, and vice versa.
HERALD
HERALD is a Swedish collaborative research programme that includes several data sources linked together on patient level. Data sources include registers with national coverage, regional data with labs, BMI, and liver ultrasound, as well as quality register data from the national diabetes register. HERALD will be able to study important aspects of epidemiology, treatment patterns, and burden of disease on a national level (10M inh.) as well as perform more in-depth analysis using non-invasive risk scores and liver ultrasound in the Stockholm region (2M inh.).
HERALD is planned to generate quality research in the field of CLD between 2021-2026. Research data sets are planned to be amended with additional relevant variables during the course of the research programme.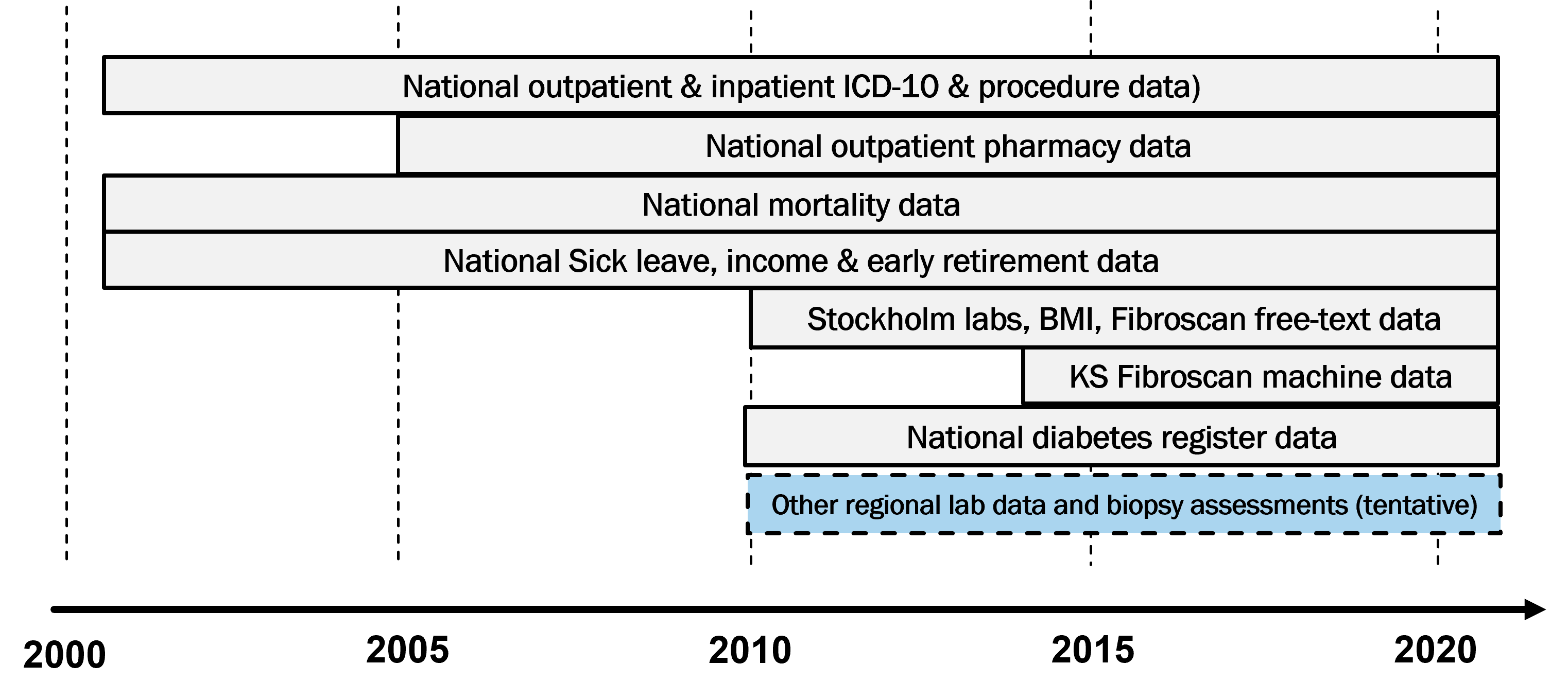 Figure 1. Longitudinal data overview
OBJECTIVES OF HERALD
The overarching objectives of HERALD are to:
Better characterize and describe the population with, or at risk of, CLD, with or without Type-2 diabetes.
Understand more about the development, distribution and associations of liver ultrasound and non-invasive risk scores (e.g FIB-4) in both the general population patients with CLD, with or without Type-2 diabetes.
Study health care costs and productivity losses in relevant subgroups of the CLD population compared with healthy controls
Study of CLD related outcomes and complications (mortality and morbidity) and its association with various risk factors, including T2DM.
Estimate and evaluate if new risk scores based on combinations of current non-invasive risk scores, liver ultrasound and/or other patient characteristics could be used to better predict progression of disease.
ACADEMIC INVOLVEMENT AND NETWORK
From Quantify's side HERALD is led by Oskar Ström and Emilie Toresson Grip, both with extensive experience and engagement in epidemiological research and academic collaborations. HERALD is run in close collaboration with Karolinska University Hospital and Karolinska Institutet, Department of Medicine, Huddinge.