Psoriasis and Psoriatic Arthritis
DESCRIPTION
Psoriasis is a complex, systemic inflammatory disorder with significant patient and societal burden. One of the most common comorbidities of skin psoriasis is psoriatic arthritis, a seronegative arthritis characterized by inflammation, joint pain and damage if not quickly treated. In the past two decades, incredible progress has been made in the development of treatment options available to PsO and PsA patients, such as biologic medications. The increasing recognition of the systemic nature of psoriasis has helped motivate the need for holistic care beyond the skin.
REAL-WORLD DATA (RWD)
Quantify maintains up-to-date, population-based RWD from Sweden that is immediately available in-house, called Q-PsO and Q-PsA. Both platforms include the following data:
• All in-patient care including diagnoses and costs from 1968-2020
• All out-patient care including diagnoses and costs from 1997-2020
• All pharmacy dispensed medications including products and costs from 2005-2019
• Death dates and causes from 1968-2019
• Socioeconomic information from 1990-2018
• Societal and indirect costs from 1990-2018
More data is being added – get in touch to find out more.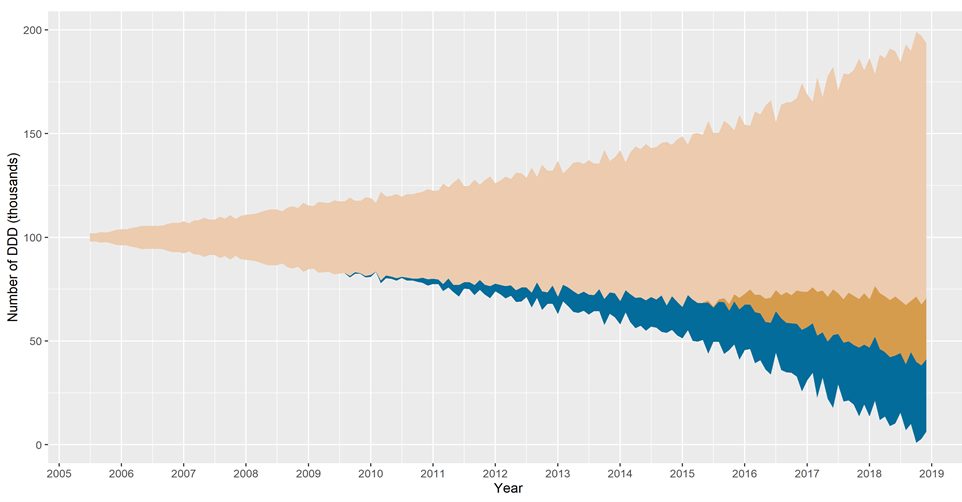 Figure 1: Volume of dispensed biologic medication in Sweden over time
STRATEGY, ECONOMIC MODELING AND HEALTH TECHNOLOGY ASSESSMENT (HTA)
Quantify has extensive experience in the development of economic models (cost-effectiveness, budget impact) and value demonstration in dermatology and rheumatology. Quantify has also developed a variety of HTA dossiers to support reimbursement activities.
ACADEMIC INVOLVEMENT AND NETWORK
As a PhD candidate in dermatology, Quantify's CEO Kirk Geale is extensively involved in the global research community. Quantify has many ongoing relationships with clinicians and thought leaders worldwide in the fields of dermatology and rheumatology.
SELECTED PUBLICATIONS
Geale, K., Henriksson, M., Jokinen, J., & Schmitt-Egenolf, M. (2020). Association of skin psoriasis and somatic comorbidity with the development of psychiatric illness in a nationwide Swedish study. JAMA dermatology, 156(7), 795-804.
Lindberg, I., Lilja, M., Geale, K., Tian, H., Richardson, C., Scott, A., & Osmancevic, A. (2020). Incidence of Psoriatic Arthritis in Patients with Skin Psoriasis and Associated Risk Factors: A Retrospective Population-based Cohort Study in Swedish Routine Clinical Care. Acta Dermato-Venereologica, 100.
Geale, K., Lindberg, I., Paulsson, E. C., Wennerström, E. C. M., Tjärnlund, A., Noel, W., … & Theander, E. (2020). Persistence of biologic treatments in psoriatic arthritis: a population-based study in Sweden. Rheumatology advances in practice, 4(2), rkaa070.
Lilja, M., Grip, E. T., & Geale, K. (2020). PBI25 Longitudinal Trends in the Biologic Treatment of Swedish Psoriasis Patients–Findings from Q-PSO. Value in Health, 23, S415.
Geale, K., Henriksson, M., & Schmitt-Egenolf, M. (2017). How is disease severity associated with quality of life in psoriasis patients? Evidence from a longitudinal population-based study in Sweden. Health and quality of life outcomes, 15(1), 1-9.
Geale, Kirk, Martin Henriksson, and Marcus Schmitt‐Egenolf. "Evaluating equality in psoriasis healthcare: a cohort study of the impact of age on prescription of biologics." British Journal of Dermatology 174.3 (2016): 579-587.
Geale, K., Costa-Scharplatz, M., Anell, B., Sharma, A., Dahlborn, A., & Tian, H. (2017). Dose Increase Beyond Labelled Dose of Biologic Treatments In Psoriasis Patients: A Real-World Study In Sweden. Value in Health, 20(9), A809.
Geale, K., Henriksson, M., & Schmitt-Egenolf, M. (2015). The Relationship Between Disease Severity and Quality of Life In Patients With Moderate to Severe Psoriasis. Value in Health, 18(7), A675.