Real-World Evidence & Analytics
QUANTIFY is the leading provider of Nordic RWE with vast documented experience in high-impact RWD studies. The QUANTIFY team possess expertise in data access, analysis, and interpretation with an unparalleled understanding of Nordic data. We can access linked, patient-level data across the Nordics spanning primary care and hospital visits, drug prescriptions, sociodemographic, economics, labs, EHRs, PROMs and others to produce innovative, impactful research.
Our team understands the increasing role RWE plays in clinical, economic and regulatory decision-making, throughout a product lifecycle, from the pre clinical research phase to the post-market authorisation and commercialisation phase. We provide research- and regulatory-grade RWE with many applications, across many disease areas with a focus on meeting the needs of various stakeholders. In order to meet this high standard, QUANTIFY combines a deep understanding of data, methods and clinical context to provide meaningful insights and robust results.
QUANTIFY recognizes that while Nordic data is unparalleled in many ways, manufactures also need to develop evidence in other geographies. That's why we work with a network of talented partner organisations to offer a wide range of coordinated RWE across the EU, US, and UK.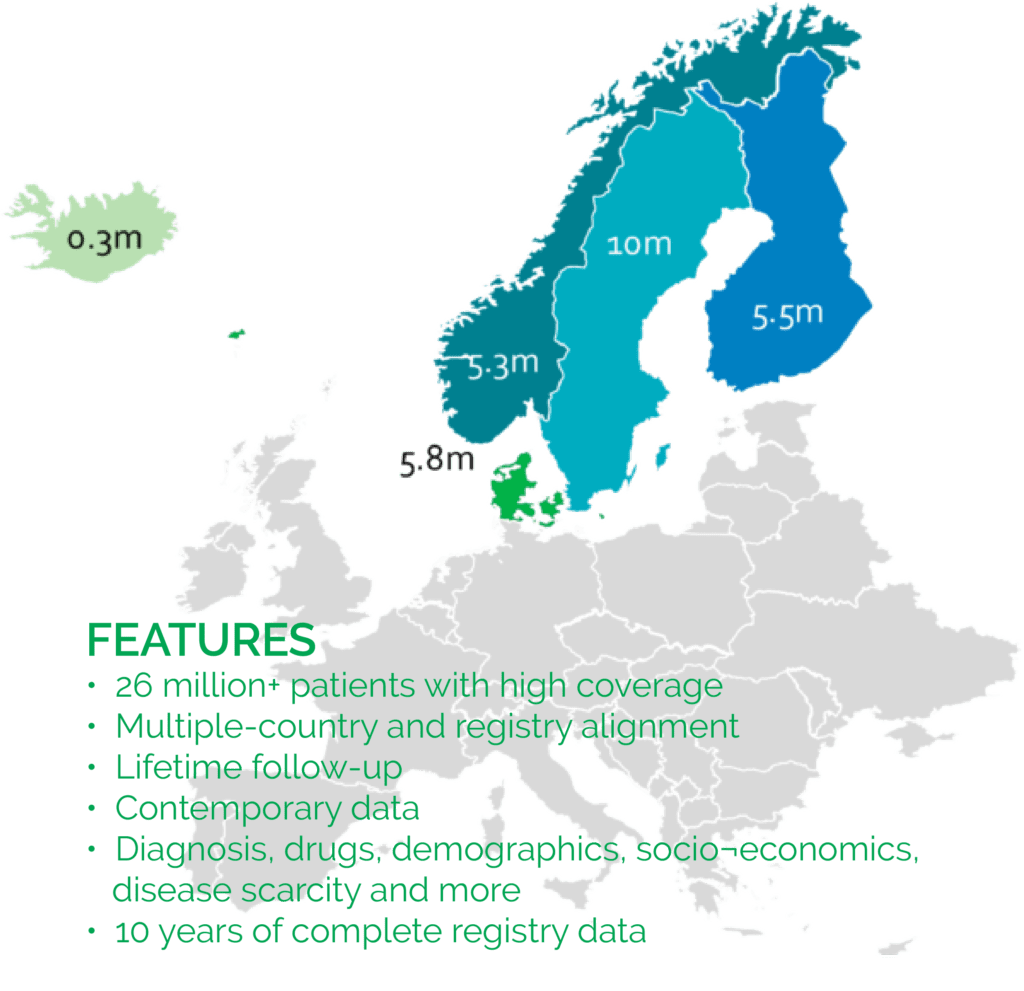 NORDIC REGISTRIES
Quantify is a top provider of Nordic register studies, having executed more than 100 projects that produced over 50 peer-reviewed publications in numerous therapeutic areas. Nordic data are population-based, secondary data assets globally lauded for their quality, detail and long follow-up. Given the high coverage rates and ability to link many types of patient-level data, these assets are often superior to alternative data sources in larger markets (e.g. Germany and the UK) for demonstrating value and unmet need.
Nordic administrative data can be linked to any of the 100+ disease-specific registers in Sweden containing clinical data and patient-reported outcomes in addition to biobank assets. Our partners increasingly rely on Quantify's expertise in accessing, analysing, and interpreting Nordic data to support research programs globally.
Example of data types that may be accessed for research: