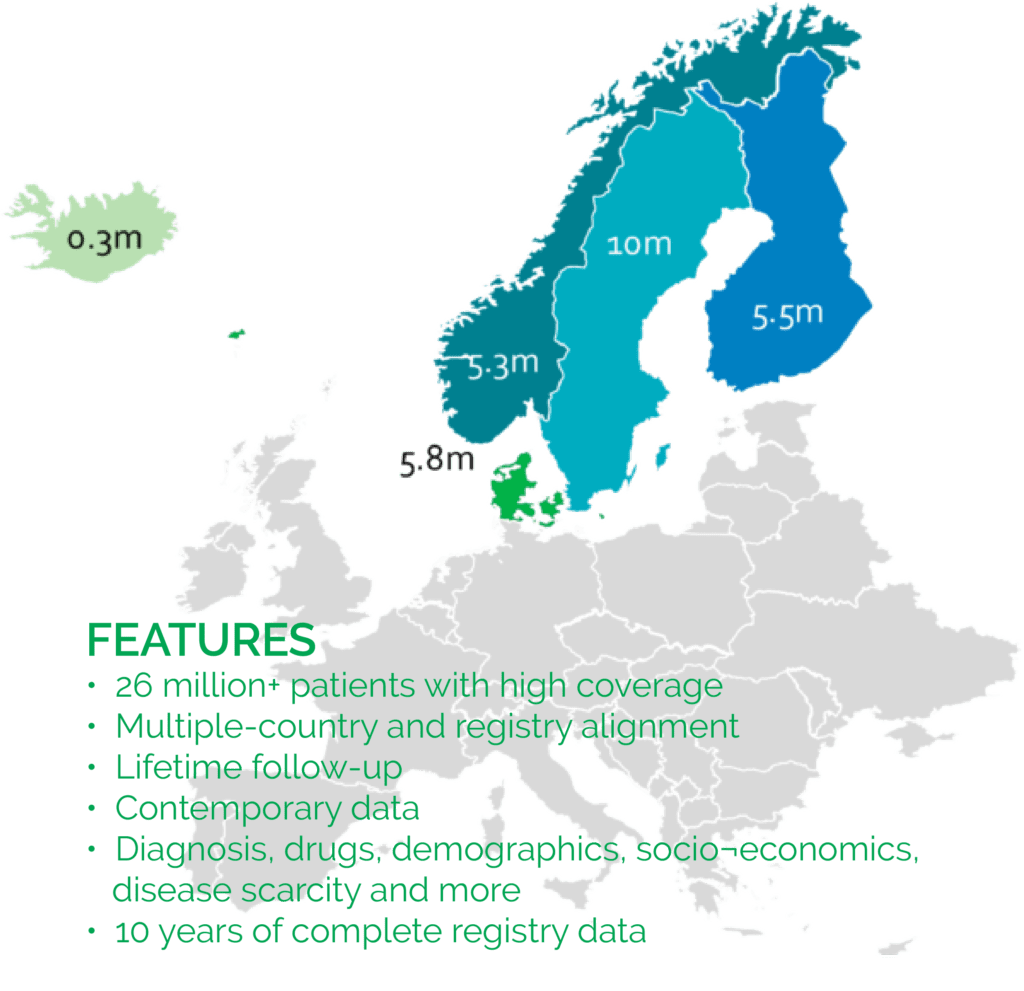 Nordic Registries
Quantify is a top provider of Nordic register studies, having executed more than 100 projects that produced over 50 peer-reviewed publications in numerous therapeutic areas. Nordic data are population-based, secondary data assets globally lauded for their quality, detail and long follow-up. Given the high coverage rates and ability to link many types of patient-level data, these assets are often superior to alternative data sources in larger markets (e.g. Germany and the UK) for demonstrating value and unmet need.
Nordic administrative data can be linked to any of the 100+ disease-specific registers in Sweden containing clinical data and patient-reported outcomes in addition to biobank assets. Our partners increasingly rely on Quantify's expertise in accessing, analysing, and interpreting Nordic data to support research programs globally.
Example of data types that may be accessed for research:
Geography of patient, hospital and prescriber
Quick access to anonymised patient-level statistics for feasibility or pilot studies
To determine whether a particular question can be answered using Nordic registries, Quantify can access key data in a matter of weeks.
Access to data in as little as 2 weeks
Can be used to validate and improve study design, check sample size, pinpoint subpopulations, test for outcomes etc.
Data is anonymised through grouping (e.g. age bands) and/or masking (ICD-code to 3 digits)
May be used to support HTA analyses
Track record
100+ observational data projects
160+ publications in peer reviewed journals
50+ projects involving patient-level data
Methodological expertise
Retrospective register/database analysis, chart reviews prospective data studies
Epidemiology, comparative effectiveness, conjoint analysis, treatment patterns
Frequentist, Bayesian, machine learning, and others
Data access expertise
In-depth knowledge and understanding of content, strengths and limitations of national register data
Experts in managing data access processes and extraction of research data in the Nordics
Network
Quantify can access data via our extensive network that others can't reach
Connected with key opinion leaders, who can provide pivotal advice on clinical practice, study design and interpretation
Select collaboration
IPECAD
IPECAD is a forum for the value demonstration of Alzheimer interventions. Quantify's Anders Gustavsson sits in the steering committee and has recently co-developed an open-source cost-effectiveness model for AD.
IOF
NGO that functions as a global alliance of patient societies, research organizations, healthcare professionals and international companies working to promote bone, muscle and joint health.
IMI ROADMAP
Project designed to provide a foundation for an integrated data environment and framework for real-world evidence research within Alzheimer's disease.
NORDSTAR
Pioneering, cross-border, multi-party collaboration, aimed at steering and supporting new asthma research to improve disease management.