What is real-world evidence?
Real-world evidence (RWE) is an insight created from the analysis of real-world data (RWD). In this context, "real-world" usually refers to the collection of information from routine clinical care, in contrast to the highest quality, closely controlled clinical conditions found in randomised control trials (RCT). The RWE derived from RWD are critical in the medical evidence base used to attain regulatory approval from authorities such as the FDA and EMA, in assessments by payers such as NICE, and in the lifecycle management of pharmaceuticals and medtech products.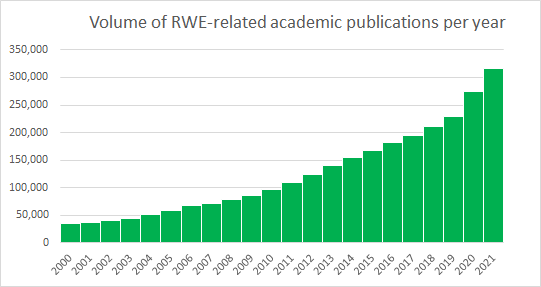 An enormous amount of progress was made in recent years around the acceptability and guidance of RWE in regulatory and payer processes, which continue to develop in real-time. Recently, as part of the The 21st Century Cures Act, the FDA released guidance outlining the use of RWD to support regulatory decision making. The EMA also released draft guidance on the use of registry-based studies. More recently, NICE presented a real-world evidence framework outlining their ambitions to improve the use of RWE in their guidances. Together, these major shifts in the way stakeholders aim to work with RWE has made it a non-negotiable part of every company's evidence generation plan.
Data that is available in typical RWD sources may include
Demographics
Diagnosis codes and registration dates
Drug dispensations and dates
Mortality
More sophisticated data is available in certain data sets, including certain European data and the world-renowned Nordic registries:
Socioeconomics
Hospital administered products
Patient-reported outcomes measures (PROMs) including quality of life and severity
Medical procedure codes
Cost of healthcare visits or prescriptions
Lab data
Electronic health records (EHR)
Complimentary data such as work loss
Real-world evidence is a critical source of information that is a complement to, but not a replacement for, RCTs. Due to its increasing importance in regulatory and payer decision-making, pharmaceutical and medtech companies must start thinking about their RWE strategy early on in each product's development.
Read more about how QUANTIFY can support your RWE strategy and evidence generation